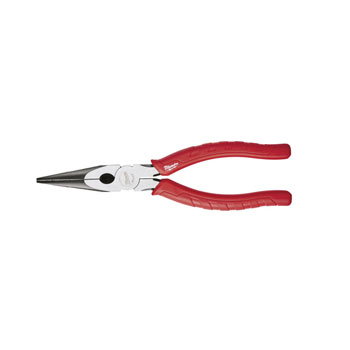 MILWAUKEE Long Nose Pliers 200mm

48226101
The Milwaukee 203mm Long Nose Pliers feature a 50mm gripping nose for pulling wire and material through rough-in holes and other tight spaces. The pliers head features integrated reaming ridges for removing burrs from the inside of smooth pipe as well as an integrated wire cutter.
For added functionality, the Milwaukee Long Nose Pliers feature an integrated fish tape puller. Milwaukee pliers feature over-molded comfort grips, which will not peel under jobsite conditions.
All Milwaukee pliers are forged for strength and feature rust protection for long life.
Features:
Gripping Nose Reaming Head Design - Up to 2.5MM (patent pending) Wire Cutter
On-Board Fish Tape Puller
Comfort Grips Will Not Peel
Forged Design for Added Strength
Rust Resistance